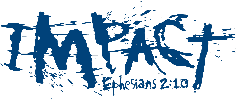 Impact Youth Ministry is geared primarily toward junior high and senior high school students.
Why IMPACT? The word impact has a few meanings. In the noun form it means "a significant or strong influence". In the verb form it means "to influence, or to collide". Our lives are changed when they are impacted with the truths of God's Word. Impact Youth Ministry's desire is to deeply IMPACT students in our world with the love and life changing message of Jesus Christ.
Our Mission
The Great Commandment: "Jesus replied: 'Love the Lord your God with all your heart and with all your soul and with all your mind.' This is the first and greatest commandment. And the second is like it: 'Love your neighbor as yourself.' All the Law and the Prophets hang on these two commandments." (Matt. 22:37-40)
The Great Commission: "Therefore go and make disciples of all nations, baptizing them in the name of the Father and of the Son and of the Holy Spirit, and teaching them to obey everything I have commanded you. And surely I am with you always, to the very end of the age." (Matt. 28:19-20)
IMPACT Youth Ministry exists to reach students for Jesus Christ, to connect them with other Believers, to help them grow in their faith, and to encourage them to serve and honor God with their life.
Two core ideas that help us to successfully live out our purpose.
180: A biblical term for 180° is repentance. Repentance means "a change of mind", to turn from something towards something else. 180 is the name of our mid-week Bible study. During this time students are challenged from God's Word to turn away from living a self-centered life to living a life that is God-centered. (Romans 12) 180 meets every Wednesday night, 7:00 - 8:30 PM.
Operation IMPACT (OI): Operation IMPACT is all about taking action. It is not enough to learn about how to live a life that pleases God. God wants us to work it out! These service opportunities provide an outlet for our students to get involved in practical ministry for the purpose of reaching the world for Jesus Christ.
These ministries include, but are not limited to: drama team, puppet team, work teams, VBS ministry team, mission trips, CIA (Christians in Action) teams, and other local church ministries.
Other activities and special events: Throughout each year there are other activities, retreats and opportunities for students to get involved in.